Angela Meyers
Angela loves to hike and spend time outdoors. She finds hiking and backpacking a great way to connect with nature, decompress and get back to what's really important in life. She also loves to meet great people on the trail. Thankfully we live in an area with fantastic hiking close by. Some of her local favorites are Placerita Canyon – the most beautiful, Towsley – strenuous and a good workout for when you don't have much time and Vasquez Rocks which she hikes at least once a week. And let's not forget about the High Sierra and all of it's beauty! Her favorite trip was backpacking the 72 mile High Sierra Trail that goes from Crescent Meadow in Sequoia National Park across the Sierra to Mt. Whitney and then exits at Whitney Portal. She has been to Mt. Whitney three times and hopes to be able to continue to make this a yearly event. Last year she visited Germany and was fortunate enough to hike some of the Bavarian Alps with family and friends. She hopes to see you on the trail soon!
---
Chris Spicher
Chris was born in east Los Angeles, but now resides in Lancaster since 1953. He loves to be outside, and loves to sleep on the earth. He has hiked along Hadrian's Wall and travelled through the klondike-Chilcoot pass in Alaska one summer. He hiked the John Muir trail solo, has taken 10 trips in a canoe through the boundary waters canoe area, several trips with the legendary Lee Bergthold in the southern sierra and eastern California desert. When his wife is not ski racing, they have been known to hike together. Chris loves campfires, starry nights, crazy weather and sparkling clean,fresh water.
---
Dave Pulsifer
Dave is a retired Superintendent from a power company. He has backpacked over 2,000 miles, many with his children. Dave takes special enjoyment in having completed the John Muir Trail in California and the Wonderland Trail in Washington State. As he is getting older, Dave has embraced day hiking and volunteers his time to the Community Hiking Club as a board member, hike leader, and trail worker. His goal is to get as many people as possible hiking and enjoying the outdoors.
---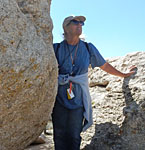 Dianne Erskine-Hellrigel
Dianne loves to climb mountains! She has climbed Cho Oyu, Yufuin, Fuji, "The Snake", Kilimanjaro, Everest to the summit, and Everest to Base Camp/Kalapattar. She loves to hike California's mountains and deserts, and is always ready for a new adventure and challenge. She loves camping and is especially fond of the Angeles National Forest, and all of California's National Parks.
---
George Carillo
George has been hiking for 2 years and is a great, thoughtful leader. He always has a predetermined plan and direction. He enjoys forest hikes, especially those with creeks and waterfalls. But he also enjoys hikes with different scenery and difficulty levels as well. The adventure, exercise, social aspects and nature is what he values most. As Forest Gump said, "That's all I got to say about that!"
---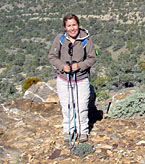 Linda Castro
Linda has been a hiker leader since 2009. She would rather be in the outdoors than anywhere else. She is interested in everything related to the outdoors, from the Amargosa vole to the Zygocactus. She is also the Desert Field Organizer for the California Wilderness Coalition, an Oakland-based California non-profit organization that works to build support for the protection of California's wildest remaining places. Linda is an avid hiker, tent camper, and amateur nature photographer.
---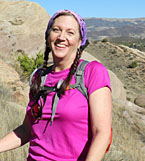 Lise Meyers
Lisé started hiking with Community Hiking Club nearly three years ago, and quickly became a great hike leader. Lisé has a passion for knowing the names of the flowers, trees and grasses that are seen on CHC's hikes, and loves to teach them to others. She enjoys leading hikes at a pace that everyone can enjoy. She believes a hike should be a combination of great cardio, while taking the time to enjoy the scenery and wants to be sure everyone has a great experience. She is also an avid photographer whose favorite subjects are wildflowers and wild animals.
---
Nikki Dail
Nikki Dail has been hiking regularly in the local surrounding mountains for the last 15 years. She is interested in nature, wildlife, and especially birds. She enjoys having the ability to share her joy and wonder of our beautiful surroundings with great people. Some of her favorite So Cal hikes include Mt San Jacinto, Bridge to Nowhere, Nightmare Gulch in Red Rock Cyn, La Jolla Cyn, and Big Santa Anita canyon from Chantry Flats. She also has backpacking experience and enjoys International travel. Some of her adventures have taken her to Mt Whitney, Havasupai in the Grand Canyon, the Bavarian Alps, Mt Kilimanjaro, trekking in Nepal to Mt Everest Base Camp, Yosemite High Sierra Camps, Hawaii volcano lava flow, and hiking in the jungles of Peru.
---
Ola Mikail
Ola Mikail grew up only hiking on rare camping family vacations. It wasn't until the age of 41, when she was given the opportunity to train for Half Dome in Yosemite that she fell in love with nature and the sport of hiking. She has since done Half Dome twice, Mt. Whitney partially twice, with the goal of summiting it this year. She also has the Grand Canyon planned with an intimate group of friends. She has been leading for the Community Hiking Group for just a few short months and loves the opportunity to lead, which is something normally outside of her comfort zone.
---
Richard Bouley
Richard is an outdoor enthusiast who loves to explore California's diverse environment. He has been Hiking his entire life and enjoys the company of other like-minded individuals. Hiking fulfills him spiritually, mentally and physically. Whether it's day hikes or backpacking he can't get enough of the trails. He can't wait to see you on the trail!
---
Ron Kraus
Ron Kraus retired from the City of Los Angeles, Department of Recreation and Parks, in 2002 and has been a volunteer at the Placerita Canyon Nature Center since then. He currently serves as the president of the Placerita Canyon Nature Center Associates, the non-profit organization that assists the County of Los Angeles in the operation and programming of the facility. He enjoys leading hikes that have a connection with local history and historical sites.
---
Steve Iland
Steve first discovered his love for the outdoors in Ireland, while tramping through marshes and hedgerows with a birder friend. He has hiked and camped all over Europe in the scouts. After Steve moved to Santa Clarita, he began to lead hikes with CHC years and has led many of our hikes over the last 2 years. He likes hiking less crowded trails, especially cooler mountainous areas. He maintains the CHC hiking schedule and is our Meet Up Master. He also enjoys photographing the flora and fauna he sees while hiking.
---
Steve Ritchie
Steve is a retired business owner and Vietnam war veteran. He enjoys camping, backpacking, kayaking and sharing his knowledge of these skills with others.